It's more than just potters who work at the Sunset Hill Stoneware production facility. Aside from these obvious key players, there are dozens of other roles that work behind the scenes to bring your handmade stoneware mugs to life. You've already met some of Sunset Hill Stoneware's employees, including handlers, our master potter, our graphic designer and even some of our sales staff. Now, you'll meet a member of our crew that gets your mugs and steins ready to come in and out of the kilns.
This is Wade Pratt. With almost eight years of experience at Sunset Hill Stoneware under his belt, Wade is one of the most recognizable faces in our production facility and loves working with everyone at our shop. Officially the leader of our glazing department, Wade wears many different hats while he's working, including operating the kilns and experimenting with new glaze colors.
The Glaze Scientist
It's hardly a secret that Sunset Hill Stoneware is always experimenting to find new glaze color options for our handcrafted mugs. Together with our plant manager and master potter, Jason Sonsthagen, Wade has been working to develop new colors that meet our strict quality standards every time. Finding the right method for each one, on the other hand, can take more than simply dunking the mug in a bucket of glaze.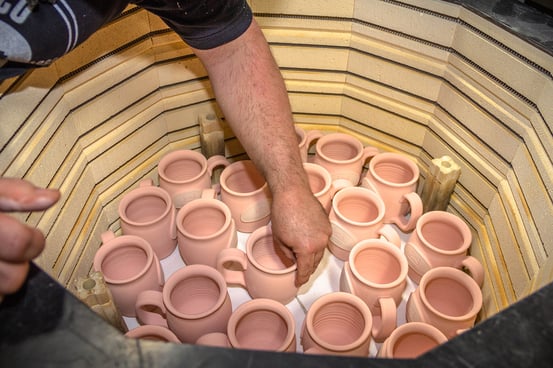 "Certain glazes have to be dipped a certain way," Wade said. "Sometimes you have to go slower, sometimes you have to keep it on there and twist it long enough so it stays on the mug."
For our two-tone glazes, it can also take extra time for the stoneware to dry before Wade and his team can dip the tops or bottoms in glaze again.
Some glaze colors are also more difficult to work with than others. For example, our stately Red took a lot of trial and error before we were able to use it on your stoneware coffee mugs.
"I think that took us about two and a half years to create," he said. "And I did it on accident."
After trying for so long to get a solid shade of red, Wade and Jason got to work writing down exactly how he'd done it, including the exact composition he had used. However, it's still one of the hardest glazes to make because of everything that goes into it.
The introduction of triple-dipped glazes like Old Glory has also presented Wade and his team with some interesting challenges. It took a few different iterations before he could glaze it properly without the glaze coming out consistently enough to meet our quality standards.
"It takes a little longer," Wade explained. "Now that it's changed from having white in it to Oatmeal, it works so much easier and now it's not as bad. I don't mind it."
You might think that glazing requires heavy machinery or some special piece of equipment, but that's not the case. At this point in the process, all Wade and his team use is a simple pair of tongs. There are some challenges to this deceptively simple method though.
"The big mugs are heavy," he explained. "Especially when you have to do a full dip. You have to put the whole mug all the way in and pull it out... and all you're using is a pair of tongs."
Out of all the glazes he works with on our mugs, Wade's favorites are Electric Blue and Northern Lights. He also likes some of the custom beer steins we've made for veteran-owned lifestyle brand Zero Foxtrot and collects some of them in his free time.
Bringing Color to Your Stoneware Mugs
Every day, Wade can be seen in our kiln room taking the custom coffee mugs and beer steins from one stage of production to the next. This includes stacking them deep in our largest kilns for the bisque-firing stage and coating them in glaze before their final firing. The whole process is much more delicate than it looks though. In fact, there's a certain level of gentleness that Wade and his coworkers have to use at different stages of the process. That can be difficult for our guests and new members of our team to grasp at first.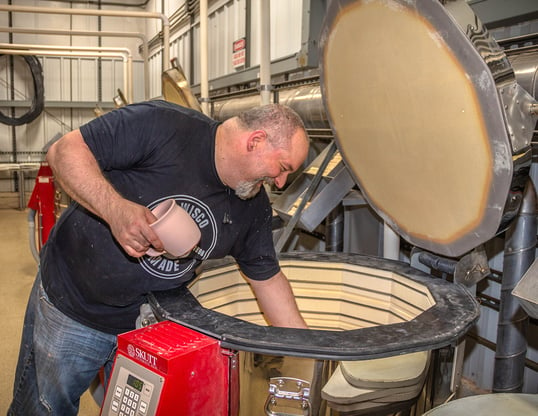 "You're only touching a piece of dirt," Wade explained. "If you crush it or hold it wrong, it's going to break. It's nothing until it actually gets fired the first time."
However, Wade pointed out that stoneware coffee mugs can still be chipped and damaged after their first firing, too. Our mugs can only handle normal treatment after they've undergone their final firing.
The whole process takes time and some patience. After the mugs finish their first round in the kilns, they have to cool down for a while so our prepping and finishing team can apply the wax that forms a protective coating on the bottom of your mugs. That level of nuance is also required after your stoneware has its colorful, protective coating.
As a matter of fact, the glazes on your mugs can sometimes change color depending on small differences in temperature. Sometimes, these can include variances as small as three degrees.
We have different settings that we use on our kilns to get the results we want every time. Most of these are trade secrets we don't like to give away, but Wade notes that there are certain glazes that need to be fired at certain settings. These settings make the kiln heat up to different temperatures to give us the colors we need.
However, Wade also warns that not using the right setting can make the pottery mugs all turn out grayish instead. Such was the case recently when we had a misfire on a batch of mugs in our pink-topped Razzmatazz.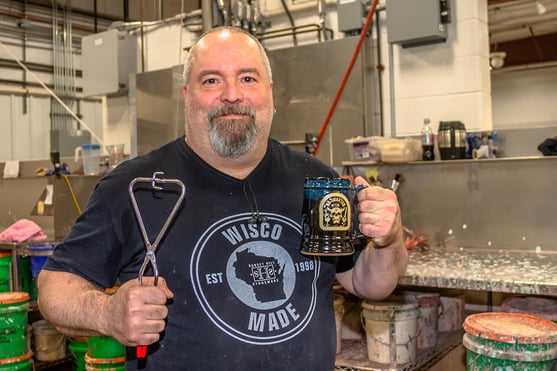 "We just fired stuff at the old place in Dale, and that's how we used to get our gray," Wade said. "That's what we used to do, so I knew that was what went wrong."
There are other sensors that Wade and his team can change on the kiln when they want to get different results from different glazes. Sometimes, even the most minor changes can cause a color to come out completely differently. For example, a difference of three degrees marks the change between our Sunfire Red and glazes like Brilliant Blue. Any higher than that, and we risk the red glaze beginning to turn black.
Timing truly is everything in our business. As we keep developing new glaze styles and colors in the months and years to come, Wade has learned to master the different techniques for firing our mugs and steins and will use them to experiment on even more options in the future.
After Work
Wade has three daughters at home, all of whom are about to be teenagers. He's also currently looking to buy a house near work in Neenah.
When he's not at Sunset Hill Stoneware, Wade also likes to cook. With about 16 years under his belt working as a cook at various different restaurants, it's still something he enjoys doing even today. Steaks are some of his favorite things to make, and he likes being able to use his grill in the summer.
However, Wade has started looking into woodworking after an absence as well, for good reason. He recently inherited a solid wood dining table that has been in his family for more than 200 years. Soon, Wade plans to restore the table and add new varnish so he and his family can keep using this heirloom for years to come.
Whether it's at home or at work, Wade's expertise and friendly face have become a part of the Sunset Hill Stoneware experience over the years. Whenever you find a mug with a new or striking glaze color and decide to add it to your collection, remember the work that Wade and our glazing team put into that piece.