Halloween is upon us! Whether you're visiting a haunted house with your friends or watching your neighborhood fill up with trick-or-treaters, it's always a good idea to stock up on your favorite hot cocoa, apple cider or a fresh cup of coffee with some seasonally appropriate stoneware mugs.
Sunset Hill Stoneware works with countless businesses that like to get scary during the fall or even all year long in some cases. Read on to find just a few of our favorite pieces of spooky stoneware that will make your Halloween.
Burial Chamber
We would be remiss if we didn't mention one of our local favorites for Halloween frights! Found just up the road in our hometown of Neenah, Burial Chamber is the largest haunted house complex in the Midwest and a unique way to get your thrills on a dark October night.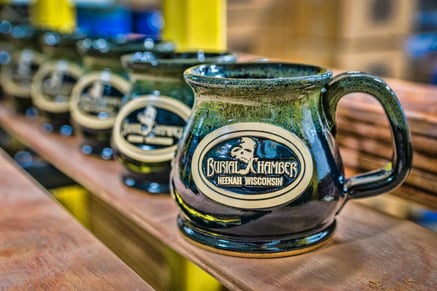 The complex hosts three different haunted house experiences to scare the pants off its guests, plus a burial simulation that's not for the claustrophobic or faint of heart. Burial Chamber has been voted as one of the most unique overall haunted houses through the Visitor's Choice Awards, along with a truckload of other accolades for its unorthodox scare methods.
To make up for being scared out of your wits multiple times throughout your journey, you can find unique logo mugs in Burial Chamber's gift shop. These beautiful mugs feature the chilling skull logo in the center of the medallion that'll give you a little fright every time you take it out for your morning cup of coffee.
Burial Chamber offers several stoneware styles for its guests to take home from year to year. For example, in 2018 visitors can find the Dale Barrel and Executive Slim mugs in Lava Rock and Galaxy Night, plus the Good Mornin' bowl. The complex has also offered the Potbelly and other smaller mug styles in the past as well.
Cat Coven
The apparel and mugs you'll find through online retailer Cat Coven are perfect for those looking for a witchy vibe, those who love cats and those who love covens.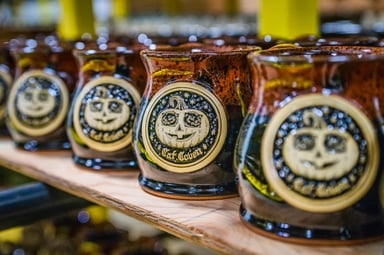 The brainchild of Brooklyn-based illustrator Kjersti Faret, Cat Coven describes itself as "a lifestyle brand for the weirdos, the magical and the feminists." Faret designs all of the artwork for the products herself and does the bulk of the printing on her own as well. Moreover, much like Sunset Hill Stoneware's American-made products, all Cat Coven apparel and accessories are domestically made or otherwise responsibly sourced.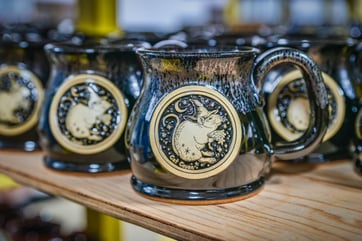 Sporting dozens of different T-shirt styles with Halloween-themed designs, Cat Coven is the perfect place to find accessories, art and home décor with a spooky touch. Whether it's tank tops or woven blankets, the shop's products tend to sell out quickly. It helps to follow the official Instagram and Facebook accounts to know when new products are about to launch.
Just in time for Halloween, Cat Coven released a set of mugs in some of our most popular accented black glazes, including Tigers Eye, Silvery Night, Galaxy Night and Dark Mint. Two of the newest styles feature two fuzzy kittens peeking out the eyes of a jack-o-lantern, plus a mug design featuring a cute rat wearing a witch's hat.
Other designs have been available on our Potbelly mugs through the brand's online store since early 2018, including designs featuring a dragon, a bat and a sphinx.
Iron Bean Coffee Company
Continuing its tradition of debuting seasonal stoneware around major holidays, Iron Bean Coffee Company debuted its 2018 Halloween mugs a few weeks before Oct. 31 with an extra dose of the spook factor.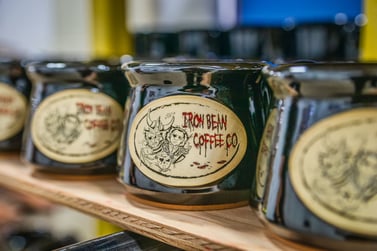 Taking inspiration from slasher films like Friday the 13th and Nightmare on Elm Street, the medallions on Iron Bean's Halloween stoneware feature the company's mascots, Nori and Dylan, trick-or-treating as a couple and wearing creepy masks. The original edition of these mugs featured the company's name backfilled in our red glaze for a blood splatter effect to drive the slasher theme home.
This unique Halloween mug was released in our Potter's Delight mug style, along with a more exclusive run for the company's superfans in our Good Mornin' kitchenware bowl. Both styles were originally offered in our classic Midnight Black glaze.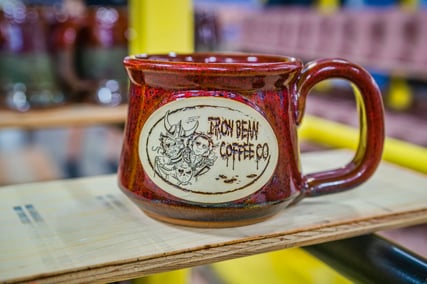 Some of Iron Bean Coffee Company's luckiest fans also received a few twists on the Halloween edition mugs and bowls. A few bowls were backfilled with black glaze instead for a special monochrome look, while we took some of the mugs to the lab and experimented on them with the blood-red top of our Cranberry Bog glaze. The result was just as spooky as the original, with a red sheen that gave us a real fright when it came out of the kiln.
Since these were part of a limited-edition batch, the mugs may be hard to come by for new collectors of Iron Bean's merchandise. Find the company's complete line of Sunset Hill Stoneware products on our blog.
Warrior Culture Gear
While not strictly Halloween-oriented, the motivational mugs we make for lifestyle brand Warrior Culture Gear err on the side of scary and hardcore with plenty of skull designs. One of the more recent additions to the collection is a Java Taster in our brand-new Autumn Fire glaze.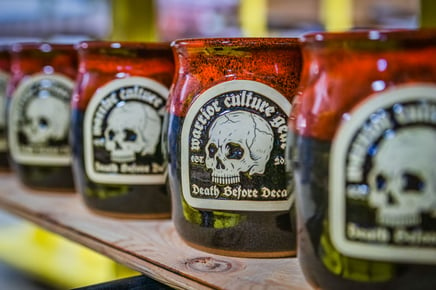 Featuring designs that run the gamut from veteran-oriented to classic horror movies, Warrior Culture Gear appeals to the toughness in everyone. Appropriately for fall, the unique coffee mugs feature a skull in the medallion labeled with the phrase, "Death before decaf." As a limited-edition release, only 100 of these autumnal mugs were made and sold to Warrior Culture Gear fans.
While "Death before decaf" is a strong position, we can't disagree. Nor could scores of fans. These limited edition mugs sold out within a matter of hours through the company's Facebook page and website. More exclusive, unique mugs will likely be released in the future through the official Facebook page and other social media platforms as well to accompany the brand's coffee blends.
No matter which beverage you like to drink from them, your Sunset Hill Stoneware mugs can be just as unique as your business, with any sort of design from spooky to detailed and delicate to downright festive. The only limit to what we can create is your imagination.