Neenah, Wis., is a hub of industrial development, including as a base of operations for Sunset Hill Stoneware. Not only is this town in the Fox Cities our home, but it's also a major player for steel and paper manufacturers. However, we're also neighbors with an industrial giant that helps the bravest among us save lives every day.
Pierce Manufacturing specializes in making equipment for fire departments and other emergency services, particularly firetrucks of all sizes and functions. Based just a few miles from us in Appleton, Pierce produces firetrucks for departments all across the United States and the world. Sunset Hill Stoneware has provided stoneware mugs to its neighbor for years now, so we're happy to honor the work of this life-saving company.
Who Makes Firetrucks?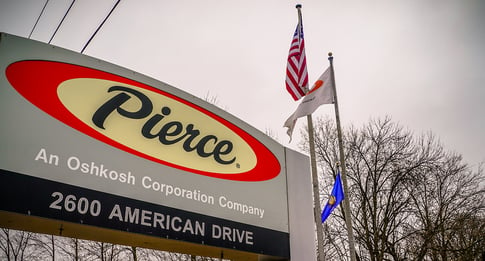 Pierce Mfg. has a dedicated team of thousands of engineers, machinists, mechanics and more creating its fire equipment in Appleton. Each new firetruck is made and tested for quality assurance on site, from the chassis to the finishing touches. It's not uncommon to see the trucks being taken for a drive down the highway in the Fox Cities either, as fire chiefs from across the country come to see their new trucks being made.
Ever in search of new innovations to keep firefighters safe and get the job done right, Pierce regularly incorporates new technology into its firetrucks. For example, Pierce has developed specialized aerial ladders that can extend to 100 feet so firefighters can work on burning structures and other emergencies from above.
The company has also developed new innovations with firefighting foam, corrosion protection for firetrucks and more to keep firefighters safe during every call they answer. Representatives from fire departments can see all these features for themselves in Appleton by appointment, including training on how to use certain features on their own trucks.
Caring After Every Fire Call
On top of its technological developments, Pierce's dedication toward safety doesn't end when the firefighter's work is done. The company has also pioneered the CARE Initiative with the Firefighter Cancer Support Network (FCSN), a program designed to prevent firefighters and their families from being exposed to carcinogens at work.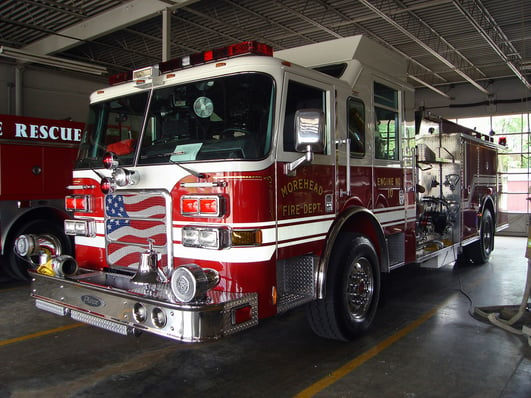 According to the FCSN, cancer caused 70 percent of line-of-duty deaths for career firefighters in 2016. Due to their frequent exposure to dangerous and unusual types of smoke and dust particles, firefighters are more likely to be diagnosed with cancer during their lifetime than the average person.
Practically every fire department with a hazmat unit has a gross decontamination plan in place, but that plan might not always extend to other parts of the department. The CARE Initiative is designed to change that.
To raise carcinogen awareness, Pierce provides a decontamination bucket on its trucks as a reminder for firefighters to advocate for their departments. Each CARE decon bucket contains information firefighters can use to clean up and protect themselves, along with resources from the FCSN to prevent carcinogen exposure on the job.
Every year, Pierce also gives back to the fire protection community with the annual 9/11 Memorial Stair Climb. Taking place at Lambeau Field in Green Bay, the stair climb is the equivalent of 110 stories—the height of the World Trade Center towers before the Sept. 11, 2001 terrorist attacks. The climb honors the 343 firefighters who gave their lives during the terrorist attacks that day, with hundreds of climbers representing them and honoring them once they complete their climb.
Pierce donates all proceeds from the 9/11 Memorial Stair Climb to the National Fallen Firefighters Foundation to support families of the fallen and reduce firefighter fatalities.
Firefighter Mugs
For years, we have supplied Pierce Mfg. with custom-made coffee and beer mugs. Although Pierce's gift shop isn't open to the public, anyone who comes to the plant for an appointment can visit the shop to find some collectibles they can use every day.
Alongside Pierce's branded hats, sweatshirts and firefighter-themed Monopoly games, visitors can also find an array of stoneware mugs to bring home. Plenty of stein and mug styles have graced the shelves over the years, including our Java Taster mug and Ale House Barrel stein, among others in numerous different colors like Brick Red and Electric Blue.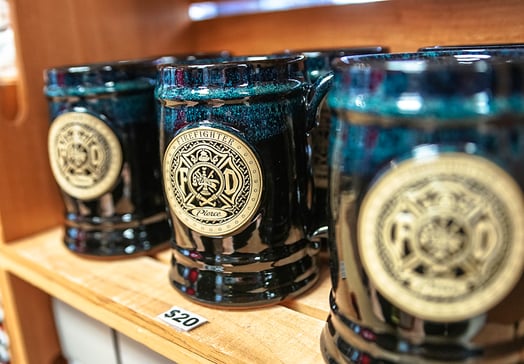 "We have reordered several times with different colors," said Cory Bartel, a representative at Pierce. Other glaze colors in Pierce's collection include Iron Grey, Black Cherry and more.
All Pierce mugs feature a special variation on the company's logo. Using the classic Maltese cross that's a popular badge for fire departments around the U.S., the design on Pierce's medallions feature firefighting apparatus like hoses, helmets and other equipment. Combined with a backdrop made to look like steel flooring and rivets, the logo is a reminder for anyone who sees it that Pierce's trucks are built to perform in the toughest conditions.
According to Cory Bartel, a representative at Pierce Mfg.'s gift shop, the stoneware coffee mugs in his store practically sell themselves. They see a quick turnaround in inventory any time they get new mugs in stock.
Since many of the visitors to Pierce's gift shop are already committed customers, they often like to bring back gifts for their friends, families and crew at home. Since the mugs feature Pierce's logo, Bartel says customers love to get their own mug to bring back and have a hot cup of coffee before the beginning of a long shift.
"People like that it is made in the USA, and locally," Bartel said. "They want something that will last."
In addition to supporting Pierce Mfg., Sunset Hill Stoneware provides mugs directly to fire departments and police departments across America. Learn more about our work with these organizations on our blog, and check out our fundraising guide to learn how to promote a cause you care about.