It's no secret that those of us at Sunset Hill Stoneware have a special place in our hearts for the Green Bay Packers. Most of our team bleeds green and gold like any other Wisconsinite. That's why we're proud to partner with a few of our friends in and around Green Bay, including one store that works directly in the shadow of Lambeau Field.
A few members of the Sunset Hill Stoneware team drove up to Green Bay this spring to visit our friends at the Packers Pro Shop in their store at Lambeau Field. While we were visiting, we saw for ourselves what the shop is doing to bring quality football gear to fans from around Wisconsin and beyond.
Visiting Green Bay's Football Stadium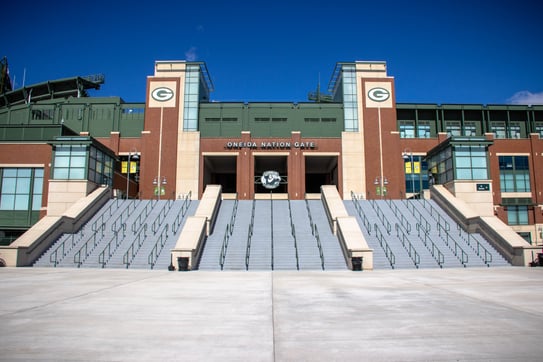 If you're driving north on I-41 toward Green Bay, Lambeau Field is hard to miss. The famous stadium can be seen on the highway from miles away and stands out against the trees and lower buildings in the surrounding neighborhoods. It's a view with which many Green Bay Packers fans are familiar during football season.
However, Lambeau Field is open all year long to visitors wanting to take a tour of the field and see what NFL players see during game days. Outside of being a mecca to Cheeseheads from all parts of the globe, it's also a popular spot for meetings, parties and corporate gatherings. The stadium also hosts the Green Bay Packers Hall of Fame & Museum, a giant replica of a Lombardi Trophy, and spots where fans can recreate their own Lambeau Leap.
On game days during football season, there's almost as much fun to be found outside the stadium as there is in the stands. Tailgating is just as much of a pastime as the games themselves, to the extent that Lambeau Field even unveiled the Johnsonville Tailgate Village in the parking lot next to the stadium in 2016. Even outside the village, you'll find tailgate parties throughout the parking lot early in the morning with some of America's nicest football fans
Every hardcore Packers fan knows that no trip to Lambeau Field is complete without visiting the Packers Pro Shop adjacent to the stadium. With thousands of square feet covered in green and gold memorabilia and a colossal-sized football helmet on display, it's the perfect way to finish off a visit no matter when you come to Green Bay.
Unique Souvenirs for Football Fans
The Packers Pro Shop is full of memorabilia that football fans can bring home to flaunt how much they love the green and gold. Their offerings include everything from wooden signboards and decorations for home to spatulas and slow cookers for tailgating, plus everything from luggage to classic fan gear like jerseys, hats and more.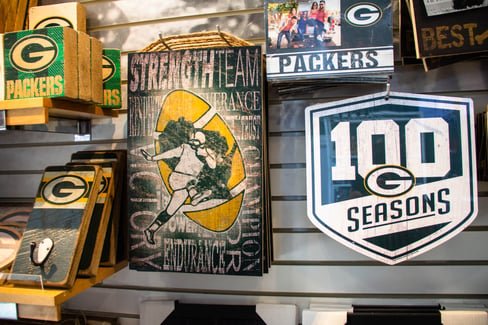 Fans who visit the Packers Pro Shop in Green Bay will find that a lot of the merchandise is made in America. This isn't just a coincidence—the management at the pro shop actively look for USA-made products wherever possible.
"We try to find products that are made in the USA, and especially in Wisconsin," said Jen Pertzborn, a buyer for the Packers Pro Shop.
With that, the staff at the Packers Pro Shop is always looking for new ideas for their products. In addition to Green Bay mainstays like jerseys and cheese hats, new products like chili bowls, phone cases and laser-etched tumblers and glasses. Pertzborn even noted that the shop is starting to cater more toward female sports fans as the league recognizes the 45 percent of its fans are women.
Some of the more feminine merchandise the pro shop offers now includes rose-gold tumblers with the Packers logo, stadium-friendly handbags and infinity scarves that are perfect for cold-weather game days. However, this barely scratches the surface.
You might also find some larger-than-life merchandise at the shop. To go with the enormous football helmet and Lombardi trophy that can be found at Lambeau Field, Sunset Hill Stoneware made another giant piece for the Packers Pro Shop. This giant mug, nicknamed the Mega Mug, can hold enough coffee to keep you awake for a month. It's also a piece that Sunset Hill Stoneware made exclusively for the Packers Pro Shop to display at their store in Lambeau Field. But, that hasn't stopped some particularly ambitious fans from asking about it.
"People are always asking how much the Mega Mug is," Pertzborn said, laughing. "Especially on game days."
The mega mug with the famous "G" logo is on display inside the Packers Pro Shop along with other drinkware you'll find for sale.
Legendary Lombardi Mugs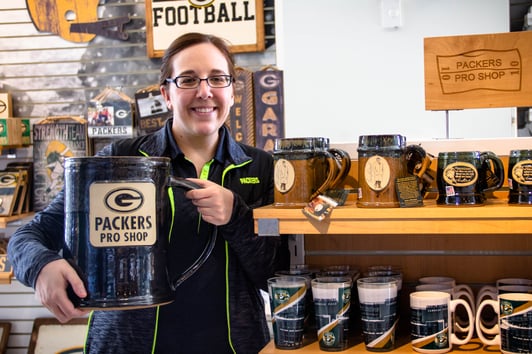 Some of the most exclusive pieces of Packers memorabilia that you'll find at the Packers Pro Shop pay homage to one of the greatest football coaches of all time.
The stoneware coffee mugs that Sunset Hill Stoneware makes for the Packers Pro Shop are one of the few Vince Lombardi products that you'll find in the store. Some of the handmade stoneware mugs and steins you'll find in the shop this season include the Java Taster in Caffe Mocha, the Dale Barrel stein in Royal Green and the Tall Boy Tap in Copperhead Run. All of these styles feature inspiring Vince Lombardi quotes, plus the man himself on the medallion. Each of these American-made mugs even has a sticker labeling it with the United States flag so anyone can see which mugs among the hundreds in the store are handcrafted with care just down the road from the stadium.
"The Lombardi mugs are hard to find," Pertzborn said. "Not many people have the rights to use his likeness."
Luckily, Sunset Hill Stoneware has a special agreement with the Lombardi family that allows us to use Lombardi's likeness and his most famous quotes. On top of having our own designs featuring Lombardi's quotes and trench coat-wearing figure, we also supply some of these exclusive designs to the Packers Pro Shop.
We've expressed our love and admiration for the late, great Vince Lombardi before on our blog. That's why we're proud to be one of the few businesses that has a special agreement with the Lombardi family to put his most famous quotes and distinctive figure on our custom coffee mugs. With hundreds of products in stock though, there's something for every fan at the Packers Pro Shop—even fans of visiting teams.
The Packers Pro Shop is located at 1265 Lombardi Ave. in Green Bay, Wis.; on the northeast side of the stadium. Many of their products, including their Vince Lombardi coffee mugs, are also available on the shops website.