Iron Bean Coffee Company and Sunset Hill Stoneware have been a match made in heaven since late 2017. We've worked with Iron Bean to bring their unique artwork to life for their ever-growing base of loyal fans, but it can be difficult to keep track of every mug we've made with them. What's a collector to do?
Look no further. This collector's guide will show you all of the handmade mugs Iron Bean Coffee Company has made with Sunset Hill Stoneware since we've begun our partnership and where you can find the latest additions for your daily dose of Rage. We will update this blog periodically with Iron Bean Coffee Company's custom mugs as they introduce new ones.
Thor and Odin Mugs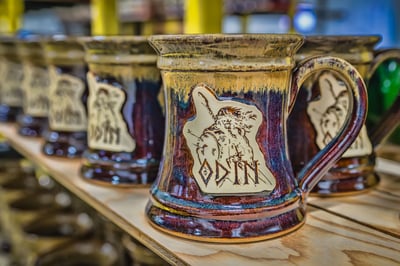 These members of the Norse pantheon were among the first mugs we made for Iron Bean Coffee Company. However, to call them mugs is an understatement—both of these designs were made with styles that are more often found in breweries and bars. They're perfect for the moments when you need an extra large cup of coffee to get you through the morning.
The regal, curved shape of the stein and subtle blue and brown hues were perfectly suited for such a prominent figure in Norse mythology, as well as for Iron Bean's debut on Sunset Hill Stoneware's products. The mug was paired with the company's coffee blend of the same name—a Ugandan single-source dark roast that fuels anyone who drinks it throughout the day.Odin, the king of the Norse gods, was depicted with a shield and spear on our Last Call, one of our more regal stein styles in Root Beer Float.

Debuting at the same time as his father, the Norse thunder god Thor is featured on a Double Barrel stein in Copperhead Run, one of our most popular and striking glaze colors.
A rounder but equally robust style, it originally complemented Iron Bean's roast of the same name, a medium-dark roast originating in Brazil. This blend is available on the company's website and makes its drinker feel like they have the energy to defend Asgard as Thor did in his legends.
The Loki Stein

Like the true black sheep of the family that he is in Norse mythology, the stein featuring the trickster god Loki has an intriguing backstory behind it. This Country Classic stein in our ShamRocks glaze was never sold—in fact, all but a few of the original run had to be destroyed.
Originally, this stein was meant to accompany an eponymous Ethiopian Yirgacheffe roast sold on the company's website and features a masked Loki wielding a sword. However, a copyright dispute arose before the stein ever got the chance to be sold to fans.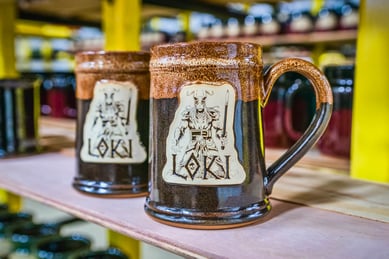 As a show of respect to the other party in the copyright dispute, Iron Bean asked that we destroy the hundreds of mugs we had made for Loki's original debut.
Iron Bean Coffee Company owners Fred and Channell Dedrick still keep a few of these rare steins in the original ShamRocks and our Irish Stout glaze, but they're never to be sold. Lucky friends and members of Iron Bean Nation sometimes receive this rare stein as gifts, but they're increasingly hard to come by.
Valentine's Day Mugs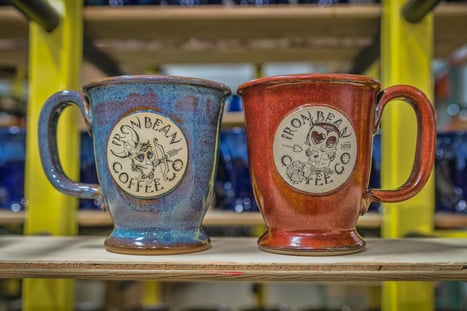 The only two-piece mug set Iron Bean Coffee Company has created with Sunset Hill Stoneware to date, the 2018 Valentine's Day mugs opened one of the earliest chapters of the love story between the company's mascots, Nori and Dylan the Viking Poet. In this scene, Dylan fires one of cupid's arrows at Nori from one mug to the other while she reads a Valentine card she has received and grips a bouquet of flowers in her talons.
The scene is set on two Morning Rambler mugs, one in Stormy Blue and the other in Sunfire Red. While this is one of the rare occasions where we created a set of mugs, Fred and Channell recently expressed reservations about creating another set for their fans in the future. It has less to do with demand and more to do with the husband-and-wife duo not wanting to bleed their fans' wallets dry.
"We felt like we were taking advantage of the mug collectors," Fred said in a May 2018 phone interview. However, he and Channell have been open to the idea of offering the same mug edition with different color options for future mug releases.
The Bean 2.0 and 3.0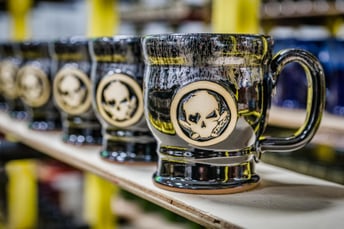 Featured in our Silvery Night and Cranberry Bog glazes, these uniquely shaped mugs flaunt Iron Bean's skull and crossbones logo on the medallion and flew off the shelves in their first two iterations.
Also known as Bean 2.0, the uniquely shaped Daybreaker in our Silvery Night glaze was Iron Bean Coffee Company's first handmade mug that featured the roaster's logo on the front.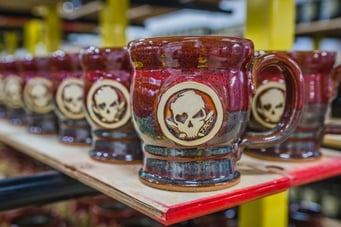 Its sequel iteration had the same logo and unique mug shape, but it was one of the first mugs to debut our red and grayish-green Cranberry Bog glaze, introduced in the summer of 2018.
"What happened to Bean 1.0?" you might be asking. Well, we won't talk about the camper ourselves. Let's just say that switching over to unique coffee mugs that are handmade in America was a better option for everyone involved.
The Fourth of July
To celebrate America's Independence Day, Iron Bean Coffee Company continued with the next chapter of the love story of Nori and Dylan, this time showing them on their very first date. The two lovebirds go on a joyride together in a classic 1957 Ford Fairlane to watch the fireworks light up the sky in red, white and blue.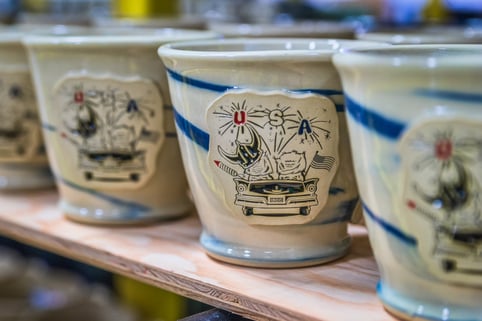 In addition to a classic offering in our Midnight Black glaze, the Fourth of July mug has the distinction of being the first Sunset Hill Stoneware mug made with our white and blue SwirlWare. It was the perfect test run before our potters introduced even more colors to our one-of-a-kind SwirlWare line and a great way to show off our capabilities as artists and craftsmen.
The orders for both colors of these special edition mugs sold out within less than a day. In the days and weeks after the initial mug drop, Iron Bean's fans raved on social media about how much they liked the creative design and innovative glaze on the SwirlWare style and posed with their new stoneware.
While we never exactly know what creative ideas will come to Iron Bean Coffee Company in the future, fans of their handmade coffee mugs and strong brews should be on the lookout for similarly innovative mug styles during future holiday releases.
The Dual Medallion Stein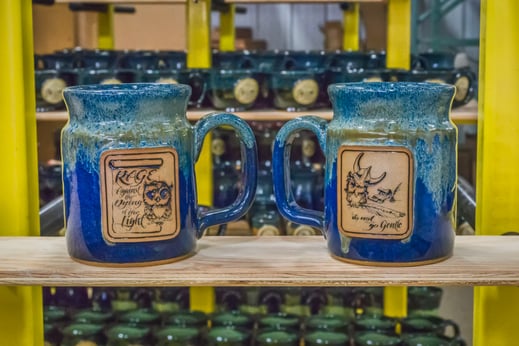 Paying homage to the Dylan Thomas poem Do Not Go Gentle into That Good Night, this unique beer stein is designed for everyone to enjoy, whether you're right-handed, left-handed or ambidextrous, with medallions on both the front and back of the body.
This Tom's Taster stein was double-dipped in Northern Lights, another one of our most popular glazes, for a unique and even more distinctive finish. It features the most resonant lines from Thomas' poem, along with Nori and Dylan posing with parchment and quill pens on the front and back of the stein.
Given that this was Iron Bean Coffee Company's first experiment with dual-sided medallions, the first run of these steins sold out in a matter of hours. Whether or not these mugs will have a second edition remains to be seen.
The "Fierce" limited edition mug
Named after one of Iron Bean Coffee Company's best-selling roasts, this mug features Nori the owl flying outward, baring her talons around a skull. This edgy design shows a side of Nori that Iron Bean's fans don't normally get to see, with a less gentle demeanor as she encourages everyone who sees her to grab the day by the skull.
Since Fierce is such a popular blend, Iron Bean offered 500 of these Java Taster mugs in Tigers Eye to their fans for a limited edition run. Seeing as it was only intended to be a limited edition mug, this mug will likely be seen as a collector's item for Iron Bean fans in the years to come.
Halloween stoneware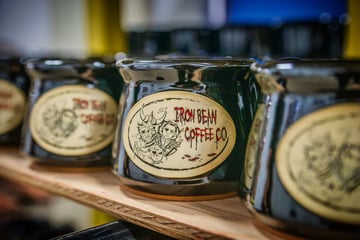 Just in time for Halloween season in 2018, Iron Bean continued to tell the story of Nori and Dylan's relationship with a slightly spookier vibe, with the happy couple dressed up as some of the scariest characters horror films have to offer. As a creepy added touch, the company's name has been backfilled with red glaze inside the medallion. The final product looks like it's written in blood and ready for its closeup in a slasher film.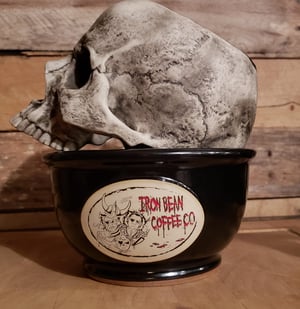 Also debuting with this Potter's Delight mug is a Midnight Black Good Mornin' bowl with the same spooky design. However, the bowl was exclusively available to members of the Iron Bean Nation group on Facebook, so anyone interested in limited mug drops like these will have to join the group for a chance to get more exclusive designs like this in the future.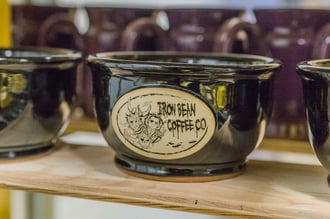 In addition to the limited-edition Slasher stoneware, Iron Bean Coffee Company also had us provide them with several of the prototypes and experiments we did for them while making the final products possible. These include a black Good Mornin' bowl with no red backfill in the company's name, as well as a small handful of mugs with variations on our Cranberry Bog glaze. These collector's pieces are even harder to find than the original Halloween bowls themselves, and anyone looking to find them needs to have serious connections with Fred and Channell in order to do so.
Iron Bean Coffee Company is always debuting new stoneware for its fans to use while drinking their favorite roast with their friends and family. Check back on this page for updates and details about each new mug style whenever they're announced.