Famously, Sunset Hill Stoneware mugs can withstand extremely high temperatures. Legend among our employees tells of an apple farm that experienced a devastating fire several years ago, with the only things to survive the fire unscathed being their unique coffee mugs and a handful of apples. Needless to say, our mugs are perfect for the bravest people among us, the firefighters who put out these blazes every day.
In addition to supplying mugs to law enforcement across the United States, Sunset Hill Stoneware makes handcrafted products for fire departments. These departments sell their mugs during fundraisers, use them as a point of pride for their firehouses and connect with their communities through them.
These are just a few of the fire departments and organizations supporting them that proudly use our products. Every mug shown and described here was made either for a local fire department or for organizations that directly aid firefighters and their families.
Pierce Manufacturing
In Appleton, just a few miles up the road from Sunset Hill Stoneware's production facility, is the headquarters and assembly plant for Pierce Manufacturing. One of the country's top firetruck manufacturers, Pierce makes numerous types of fire engines and innovations for the industry that keep firefighters safe on the job and make it easier for them to save people's lives and property.
Given how close the plant is to our own facility, it's only natural that we've supplied our custom beer steins and unique coffee mugs to Pierce for years now. The manufacturer hasn't been shy about trying out different styles and glazes, either—their unique, intricate take on the classic firefighter's badge has graced everything from the Java Taster to our Ale House Barrel beer mug in Iron Grey, Electric Blue and more.
The most recent addition to Pierce's Sunset Hill Stoneware mug collection is an Ale House Barrel in Galaxy Night. Visitors to the company's location in Appleton will be able to find this mug for themselves whether they're in the market for a new firetruck for their station or just coming to see how this life-saving equipment is made and tested.
Bailey's Harbor Fire & Rescue
Located in Door County, Wisconsin's answer to Cape Cod, Bailey's Harbor is a tiny town on Lake Michigan that's popular with tourists during the warmer months of the year where sandy beaches and natural beauty abound. Serving the town of 1,000 people and the surrounding areas is Bailey's Harbor Fire & Rescue.
The firefighters with Bailey's Harbor Fire & Rescue are ready to respond to emergency calls all year long, whether visitors are having medical trouble during the summertime or conducting harrowing ice rescues during Wisconsin's coldest winter months.
The department hosts fundraisers to support their activities throughout the year, including a Fourth of July pancake breakfast. However, in 2018 Bailey's Harbor Fire & Rescue ordered its first set of unique coffee mugs ahead of its annual fundraiser at Bailey's Harbor Autumnfest, a citywide event where the department hosts events like an open house and other activities.
For its first set of mugs, the department had us make a Wide Mouth in Red. While this is a classic combination for fire departments, the artwork this Fire & Rescue team chose is in a league of its own. Like the artwork on the sides of its bright yellow equipment, the mugs feature a classic schooner, similar to the ships used to trade beaver pelts and other goods during the town's early history. It's a unique design that would be just as much at home in a fire station as it would be in your kitchen while you brew your morning cup of coffee, plus it supports life-saving efforts in Wisconsin.
Prince William County Fire & Rescue
Serving dozens of small communities on the outskirts of Washington, D.C.'s metropolitan area, Prince William County Department of Fire and Rescue consists of 21 fire stations that serve hundreds of thousands of people in northern Virginia. According to the department's statistics, over 37,600 emergency incidents were recorded within the county, from structure fires to car accidents and everything in between.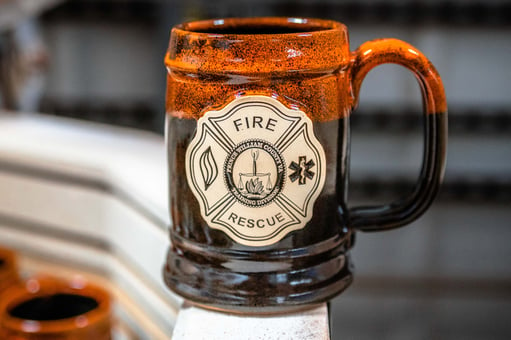 The steins that the department's Training Division ordered from Sunset Hill Stoneware in late 2018 are a perfect example of the quality that can come from pairing the right glaze and style with a clean-cut logo. The Ale House Barrel in our Autumn Fire glaze pairs well with the classic shape of the Department of Fire & Rescue's badge. The combination also serves as a departure from the typical red shades normally associated with fire departments with eye-catching results.
These stoneware beer mugs were given as gifts to Prince William County Fire & Rescue personnel during the 2018-2019 holiday season as a token of appreciation for their life-saving work throughout the year. Sunset Hill Stoneware looks forward to working with the department in the future to help them with future employee appreciation efforts.
Plano Firefighters Association
Based out of Plano, Texas, Plano Firefighters Association is a union local serving firefighters and their families. According to the organization's website, it advocates for safe and fair working conditions for firefighters, along with supporting charitable causes such as the Muscular Dystrophy Association and organizations supporting breast cancer research.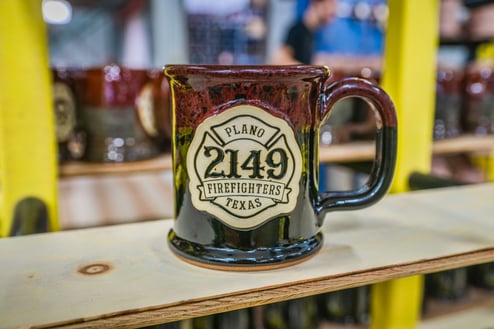 Plano Firefighters Association first approached us about making mugs as part of a fundraising event to support the organization and its overall goals in 2018. We adapted the union's logo, based on a classic fire department badge, into a medallion that would look bold on just about any glaze color. Its premiere design was an Executive Slim mug in Lava Rock, a glaze based in midnight black and topped with deep red that was well-suited to the people the organization supports.
Shortly after the Plano Firefighters Association put their first order of mugs up for sale, the unique mugs were sold out. We supplied them with their second order shortly after that and plan to make more mugs to help this organization of Northeast Texas firefighters during 2019.
Fire Department Coffee
Run by military and fire service veterans, Fire Department Coffee supports firefighters nationwide with 10 percent of proceeds helping injured or ill first responders. Departments across the country use this Rockford, Ill.-based roaster's coffee to give them the jolt of caffeine they need before starting their long, potentially dangerous shifts.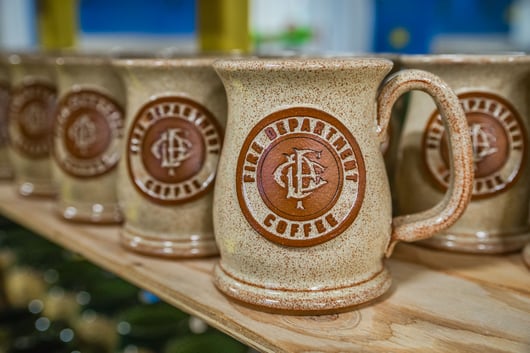 The coffee roasts available at Fire Department Coffee range from classics like the Original and Donut Shop Blends, to some surprisingly boozy twists with bourbon- and rum-infused flavors for those looking for an extra kick. These gourmet coffee blends are available for individual purchase through the company's website or with special pricing for fire departments, first responders and military.
Our relationship with Fire Department Coffee began in 2018 when the company asked us to create some unique coffee mugs for them to sell to fans.
The mugs we first created for the coffee company, called the Chief Mug, featured its logo on our natural clay medallion in our Oatmeal glaze. Accompanying it on our big debut with Fire Department Coffee was the Halligan Mug, a Silvery Night mug named after one of the most valuable tools firefighters have for breaking into burning buildings to save lives.
As we continue to experiment with new glaze offerings, we look forward to working with Fire Department Coffee to bring our mugs to coffee lovers while supporting some of the bravest people in our society, both directly and through its own efforts.
Sunset Hill Stoneware supplies unique coffee mugs to fire departments all over the United States to support their fundraising efforts for new equipment and projects. Find out some of the simple steps to developing a fundraiser for your organization or another cause with our simple guide below.