It's no secret that Sunset Hill Stoneware's pottery makes for some beautiful, unique coffee mugs. But, our potters' creative skills extend far beyond the drinking and cooking vessels we make for people, parks and businesses all over the world. Recently, we teamed up with Discover Mediaworks to create some handcrafted, one-of-a-kind stoneware pottery trophies unlike any award seen before.
Best known for its television work with Discover Wisconsin, Into the Outdoors and Boondock Nation, Discover Mediaworks is a Madison, Wis.-based company featured heavily on Wisconsin Public Television and commercials all over the country.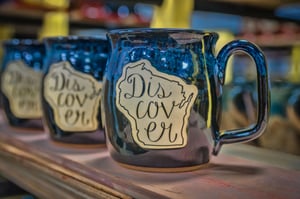 During late September 2018, Discover Mediaworks hosted a company retreat where trophies were to be given out to upstanding members of the organization. Some of the awards slated to be handed out at the retreat included the Integrity Award, the Role Model Award, the Creator's Award and more.
In order to make the awards a little more special, Discover Mediaworks approached us and asked us about creating some special trophies for this occasion. Since it was a big change of pace from our usual mugs and steins, our potters were up to the challenge.
The unique trophies we developed were shaped unlike anything else we've made before, with flame-like spikes at the top and an otherwise sleek, curving shape. On the medallions were the name of the award being given and the winner's name, along with a flame containing the company's logo. The trophies were then glazed and fired in our orange and black Tigers Eye glaze to complete their burning look.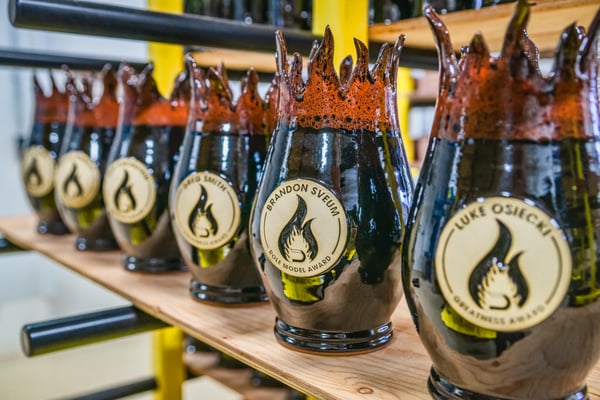 Admittedly, everyone at Sunset Hill Stoneware was a little afraid of how fragile the tops of the trophies were, to the extent that we had them hand-delivered so they wouldn't break in transit. A member of our team drove all six trophies down to Madison personally in his car to ensure their safe arrival.
According to a spokeswoman from Discover Mediaworks, the trophies were a huge hit at the retreat. These trophies were a welcome challenge for Sunset Hill Stoneware, and it just goes to show our capabilities. We don't just make handmade coffee mugs—we can make even bigger works of art that can be used as trophies or even more.