St. Patrick's Day! One of the few times where it's socially acceptable to drink at 9 a.m., and have beer the same color as ectoplasmic goo. It's also a surprisingly big holiday for our customers, with countless breweries and businesses providing special steins and mugs for St. Patrick's Day to their biggest fans.
While Sunset Hill Stoneware also likes to get in on the action with our own unique mugs for St. Patrick's Day, a few of our customers went above and beyond this year to get into the holiday spirit.
Ranger Up
Known mainly for its military-themed T-shirts, Ranger Up also sells many of its most popular designs on our unique coffee mugs all year long. But, this veteran-owned company came up with a few more creative designs so their fans could let out their inner Irishman or Irishwoman during the St. Patrick's Day debauchery.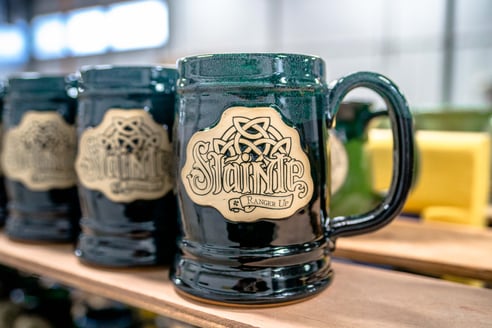 The two custom beer mugs Ranger Up debuted on the Ale House Barrel include a classic Irish lyre with the phrase Erin Go Bragh, which means, "Ireland Forever" in Irish Gaelic. However, the English language being what it is, the original spelling of "Éirinn Go Brách" was lost to time as Irish immigrants assimilated to their new home country.
The word, "Sláinte," on the other hand, remains very much alive at Irish pubs and bars all year long. Pronounced "slawn-cha," it's a classic way to say cheers before taking your first few sips of Guinness out of Ranger Up's beer stein of the same name. This stoneware beer mug features Celtic knots for a twist on a classic art form native to the Emerald Isle.
Both of these custom beer steins are available in Ranger Up's online store on our Ale House Barrel in Dark Mint.
Zero Foxtrot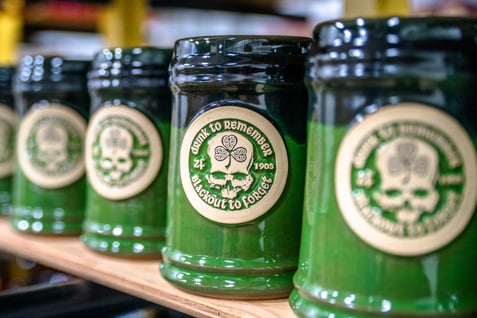 Founded and operated by a U.S. Marine Corps veteran and based deep in the heart of Texas, Zero Foxtrot is a lifestyle brand that caters to the most hardcore among us. In addition to selling its own merchandise, the brand produces its own blends of craft-roasted coffee.
In addition to its military, pirate and patriot-themed collections, Zero Foxtrot also has an Irish collection with shirts and mugs available on its website. This hardcore company has made several beer mug styles with us for St. Patrick's Day, but one of the most distinctive features a variation on its classic skull logo with a shamrock and traditional Celtic knots. The medallion on this Oktoberstein also has the phrase, "Drink to remember; blackout to forget" surrounding the skull.
Fans looking for a detailed token of the luck of the Irish can also find the Brawler Stein, featuring a detailed skull and the phrase, "Lack Fear, Not Beer." It's the perfect way to send a strong message while enjoying your favorite Irish brew all year long.
Sunset Hill Stoneware has maintained its relationship with Zero Foxtrot because all of our products are handcrafted in America. No matter the time of year or the idea Zero Foxtrot comes up with, we're more than happy to help them build their brand and any holiday-themed art or memorabilia they might develop.
Troopers United Foundation
Catering primarily to police officers and their families, Troopers United Foundation is the product of a group of New Jersey State Troopers. In the event that a police officer or first responder suffers a tragedy or illness, this organization supports them and their families through times of need.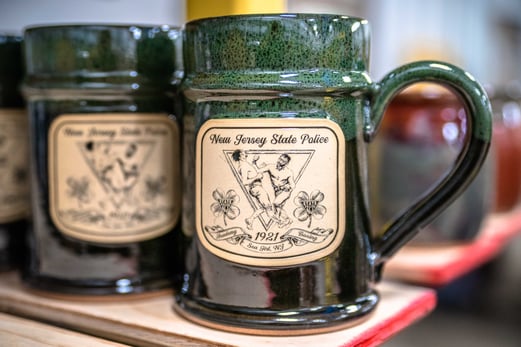 To fund these efforts, Troopers United Foundation sells clothes, accessories and drinkware themed around the New Jersey State Police. All year long, the foundation offers products with their iconic skull logo and other themes centered around the state police, including women's and children's clothing. Their unique mugs feature the logo and badge of the New Jersey State Police and come in a variety of styles and colors on the website.
New Jersey has a large Irish-American population. So, it's only natural that Troopers United gets in the holiday spirit when St. Patrick's Day rolls around. For 2019, we worked with the foundation to pay tribute to the New Jersey State Police Boxing Program, started by troopers of Irish heritage back in 1921.
Based on our Short Boy Tap in Royal Green, the medallion for this St. Patrick's Day beer mug features two bare-knuckle boxers with a vintage drawing style. With the boxers depicted in exquisite detail on the medallion, it's easy to see and feel the shadows on the boxers' faces, shoes and more as you drink your favorite ice-cold brew.
As with all Troopers United merchandise, sales from these mugs support officers and their families.
Iron Bean Coffee Company
Iron Bean Coffee Company has a growing tradition of developing special-edition coffee mugs for holidays to accompany their custom coffee blends. Having done mugs for Valentine's Day, Independence Day and Halloween, Iron Bean Coffee Company naturally turned to a holiday that allowed them to tell their company's story.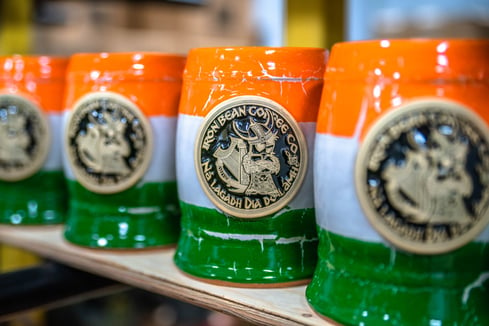 Ever ones to push us to the limits of our capabilities, the masterminds behind Iron Bean came up with the idea of a Double Barrel stein that was triple-dipped in the colors of the Irish flag for a special release. Accompanying it was artwork of Dylan, one of the company's mascots, wearing a kilt and the Irish phrase, "Ná Lagadh Dia Do Lámh."
The phrase translates to, "May God not weaken your hand." Traditionally, this blessing with near-impossible pronunciation was bestowed upon those who gave you an act of kindness.
In turn, Iron Bean Coffee Company used this phrase with their edgy, limited-edition design to thank their hundreds of supporters for taking their business as far as it has come since starting in late 2017.
In addition to the Irish tricolor mug, Iron Bean also has this medallion on a stein in Royale Moss, a regal shade of blue and green guaranteed to stand out in a sea of dark green St. Patrick's Day mugs in your collection. Along with a set of our custom-printed coasters, Iron Bean had a full set of merchandise ready in the weeks before the holiday. Within a matter of hours though, all of the custom beer steins and branded coasters sold out.
Seasons may come and go, but celebrating Irish heritage is forever. Although these mugs were all designed for one holiday, they can be enjoyed all year with timeless quality and craftsmanship you can feel in every Sunset Hill Stoneware mug. Get a quote or a free artwork proof to design a mug for your own event or holiday today.