Sunset Hill Stoneware works with charitable organizations all over the United States to help them with the causes they support, including programs that help our nation's combat veterans and first responders after they've come home. One such organization with which we're proud to collaborate is Operation Combat Bikesaver.
Operation Combat Bikesaver was born to help combat veterans and first responders who are experiencing post-traumatic stress (PTS), traumatic brain injury (TBI) and depression. Through the Indiana-based program, veterans are able to learn new skills to reclaim old or unwanted motorcycles and repair them into new works of art in a therapeutic group setting.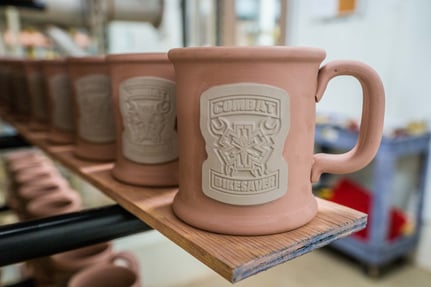 Jason Zaideman, president and founder of Operation Combat Bikesaver, developed the organization to help veterans find support for problems associated with experiencing combat during their service. A U.S. Army Engineer veteran himself, Zaideman is all too familiar with the mental health challenges combat vets face after being discharged. His father experienced PTS when Zaideman was growing up, the effects of which Zaideman witnessed firsthand.
PTS, TBI and clinical depression severely affect tens of thousands of military personnel every year. These veterans often experience behavioral and emotional effects, including nightmares, hypervigilance, severe anxiety and self-destructive behavior.
The department estimates that between 11-20% of veterans who served in Operation Iraqi Freedom and Operation Enduring Freedom experience PTSD in a given year. Moreover, roughly 30% Vietnam War veterans have experienced PTSD in their lifetime. On top of that, according to the Department of Veterans Affairs, the risk of suicide is significantly higher among veterans than non-veteran adults.
Therapy through motorcycle repair
Zaideman founded Operation Combat Bikesaver to introduce returning combat veterans and first responders to skills like motorcycle fabrication, restoration and customization; including building, welding and painting bikes. Once they finish restoring their bike or turning it into a work of art, the veterans are free to take it home for themselves or give it to a participant of their choosing.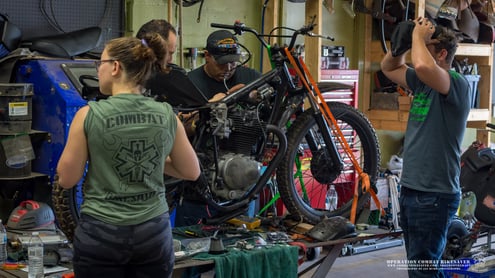 Being able to work on motorcycles in a family-like setting with other veterans helps the participants have a safe escape or distraction from PTS, TBI and depression, according to Zaideman. Plus, veterans who have completed the program are offered the chance to share what they've learned with others who are just starting. This develops camaraderie between them and establishes security and brotherhood, which Zaideman believes promotes healing for the veterans' minds and souls.
Participants in the program meet every Sunday at the shop in Cedar Lake, Indiana and work on refurbishing and rebuilding secondhand motorcycles throughout the day in a group setting. All of the staff members involved in the program are volunteers—none of them are paid for their services.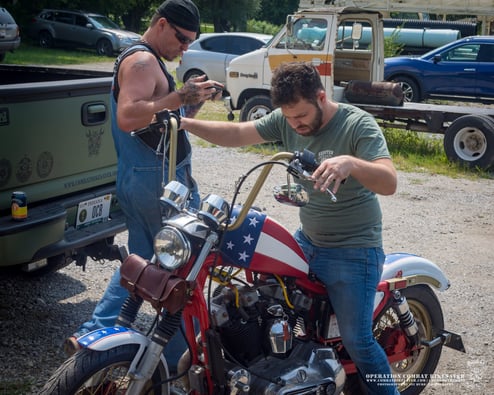 Most of the bikes the candidates repair aren't only functional; by the time they're finished, the bikes are a work of art. Decked with flames, vintage-style nose art and other decals, the bikes always come out looking better than they did when they came in. The bikes' aesthetic improvements in addition to the roar of the new engine on the reclaimed models adds extra satisfaction once the participants finish.
Zaideman estimated when we emailed him that there are currently between 50 and 60 veterans participating in the program regularly. Hundreds are signed up for participation, but not everyone can make it to the shop every Sunday. However, the program has been so helpful for these veterans that they frequently voice disappointment when they can't join the group.
Operation Combat Bike has since been featured on television shows ranging from Eye on the Arts on PBS to Returning the Favor, a Facebook series starring Dirty Jobs' Mike Rowe.
Sunset Hill Stoneware helps veterans
Operation Combat Bikesaver has helped scores of combat veterans and first responders learn new skills and combat their PTS. However, a lot of the funding for this not-for-profit organization stems from selling merchandise like shirts, decals and dog tags.
Sunset Hill Stoneware has started working with Operation Combat Bikesaver to help generate funds to support their efforts in helping our nation's heroes. Their first set of mugs features the edgy-looking Combat Bikesaver logo over a Hunter Green glaze.
"The profits from the mugs go to paying for parts and supplies needed to operate our organization," Zaideman explained. In addition, these mugs will help the organization by giving them a more permanent form of branding.
When Sunset Hill Stoneware's team found out that Operation Combat Bikesaver wanted to work with us to get their logo on some American-made mugs, our team was thrilled. We're happy to help Zaideman with his goal of supporting and helping combat veterans and first responders by providing mugs for his organization and will continue to provide him with our best-quality work and customer service.
The custom coffee mugs that support Operation Combat Bikesaver will be available through the organization coming soon. Follow them on Facebook for updates and visit their full website.