We've been providing you with our customized stoneware mugs and steins for 20 years this year. Within the past few weeks though, we've decided to take our connection with you to the next level through Sunset Hill Stoneware's online store.
Found on our website, the online store allows you to order mugs for yourself and your friends and family—finally! We have several mugs in our latest glaze colors available in the store to commemorate our 20th anniversary, but that's only the beginning of what you'll find on tap in this convenient webstore. Here's a look at what Sunset Hill Stoneware's webstore will have to offer, plus a look at what it took for us to get the site up and running.
Process of Reopening the Online Store
The reopening of our online store went off without a hitch. Everything was working perfectly from the moment the store went live.
Or, at least, we wish we could say that.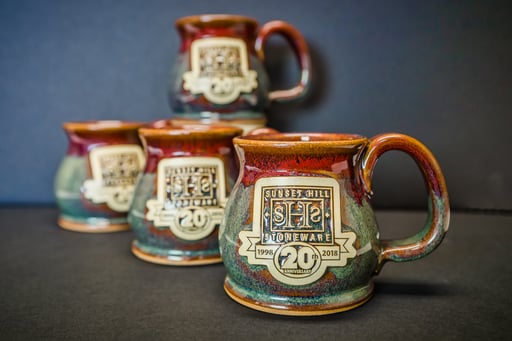 In reality, there were a lot of adjustments we had to make after the online store made its big debut. A few issues arose with our shipping calculator—among other things, it was incorrectly charging anyone who tried to order multiple mugs.
It took a few rounds of repairs from our IT department, but we finally got all of our shipping troubles sorted and compensated anyone who had problems with the calculator. Now, the ordering process should go smoothly whenever you order from Sunset Hill Stoneware's online store.
There were other issues early on, too—everybody loves closeups, but very few people want to see photos of their mugs that have been magnified 1,000 times.
As anyone in web development can attest, major website changes like these rarely go completely smoothly. But, any issues we've had with our website have since been resolved, and you should be able to order any of your favorite mugs or mug packs without experiencing any technical difficulties from now on.
Limited Edition Logo Mugs
We've brought back some customer favorites that can only be found on our online store for a limited time. This summer, members of Packers Nation will be delighted to learn that the football-shaped mug featuring Vince Lombardi on the front medallion is available and makes a great kickoff to the morning on game day. But, that's just the beginning. In the future, we'll have even more limited edition runs that you won't be able to find anywhere else.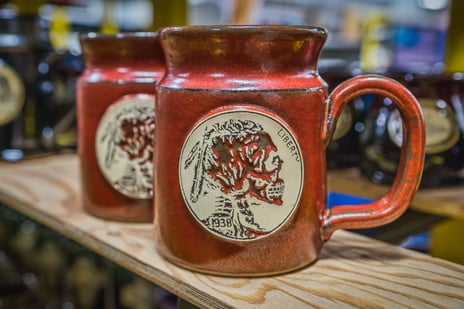 One of those pieces is already coming soon. In a matter of weeks, we will be offering a spooky special edition mug styled after the famous Buffalo Nickel. Only 100 of these mugs will be released before they're gone for good, so watch our online store for updates on when you can get this very limited edition piece straight from the minds at Sunset Hill Stoneware.
We made these products available on our web store because we've been listening. You've been asking for individually sold mugs, and while being able to customize individual mugs with your artwork is still a ways away, these are just a taste of what we have to offer. Now, you'll be able to start your morning with a custom coffee mug straight from Sunset Hill Stoneware. There is a handful styles currently available on our website as individual orders, with more to come in the future so you can find a unique mug or stein to support your favorite glaze color or cause.
Buying Mugs by the Dozen
Looking to buy mugs for your family reunion or as a thank-you gift for your team at work? Sunset Hill Stoneware's online store now has you covered. We've introduced 12 packs in three unique styles—the Potbelly, Wide Mouth and Renaissance Voyager—and four of our most popular glaze colors. These packs let you and the people you care about celebrate any occasion with handmade style that will last for decades.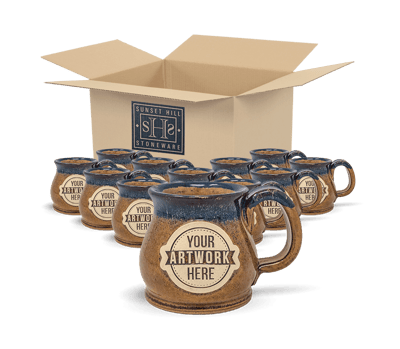 These packages can be decorated with your custom artwork or logo or adapted onto our mugs by our graphic design t
eam. Or, if you don't have your own artwork yet, we'll be happy to design graphics for you!
Offering small batches of promotional mugs on our website felt like the perfect way for us to celebrate 20 years of creating handcrafted pottery. We're one of the only potteries in the industry offering 12-packs in our online store in addition to our pre-designed options, which allows you to have your custom designs on high-quality mugs without having to order twice as many as you may need.
Groomsmen Gifts and More to Come
In the coming months and years after our anniversary celebrations draw to a close, we'll still be introducing new products and sets that can only be found in our online store.
Coming soon, we'll also be offering mug sets with wedding stock art. Since the mugs would have pre-made art of your choice on the medallion, you won't have to pay as much to commemorate your special day. These sleek mugs with your wedding's dates and you and your spouse's names make perfect groomsmen gifts or mementos for the bride and groom's families.
If you love our stoneware mugs and want individual mugs for yourself without custom artwork or medallions, you'll soon be able to order those from our online store, too. You'll still feel the same quality as soon as the mug is in your hands, but at a more affordable price. Announcements will be posted about their availability.
The Sunset Hill Stoneware online store is perfect for mug collectors, craft brewers looking to supply beer in custom nanobrewery mugs or small-batch roasters looking for promotional coffee mugs and everyone in between. All of these new products will be announced through our blog, email announcements and social media, including Facebook, Instagram, Twitter and LinkedIn. Be sure to subscribe for notifications from our website to know when we're selling new and limited edition products on our online store!